WELCOME TO OUR LATEST NEWSLETTER!
June 2019
With Ramadan just ending, our numbers in The Harbour are typically slightly quieter at this time of year, however Asylum seekers being dispersed to Swindon and Home Office decisions do not wait for festivals and celebrations. Since January of this year we have welcomed 107 new arrivals through our doors and 56 of our people have been granted Leave to Remain. New arrivals have mostly come from Afghanistan, Iran, China and Eritrea. Grants of Leave to Remain have mostly been for people from Iran, Afghanistan and Sudan. Since the 1st January we have recorded 24 individual days where 70 or more people came into the Harbour for company, for help, or to attend one of our many classes.
Claire Garrett, CEO
Harbour FUNdraising news!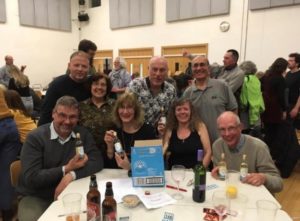 Harbour had another legendary Quiz Night this year, special thanks to everyone who came to show their support, the mastermind quiz team, Tim, Eric, Keith and Gill and the amazing HARbar staff! The various rounds definitely got everyone thinking and there was a feeling of friendly competition and a cheerful atmosphere! We hope everyone enjoyed the night as much as we did and we are extremely grateful to say we raised a legendary amount of £2,857.50! Congratulations also goes out to the winning team pictured above!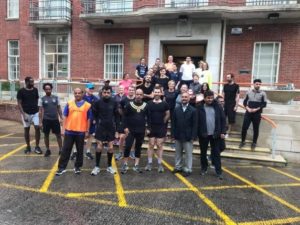 Other fundraising news includes the Mayor's Marathon, where Junab took on the major challenge of running 26.2 miles across different locations in Swindon. These included; Link Centre, Westlea Primary School, Research Council, Swindon Borough Council Offices, Commonweal School, Nationwide HQ and Shin Splints. Junab was raising money for his three charities, The Harbour Project, TWIGS and Radio 105.5, but he was also running on behalf of Andy Garrett who was a proud supporter of Harbour's work and the Mayors Marathon event and sadly passed away shortly before the event. It was a great day so a BIG Harbour thanks to everyone who ran, cheered, donated and supported! We look forward to updating you soon with the full amount raised for the Mayors charities in the last year!
Lloyds Foundation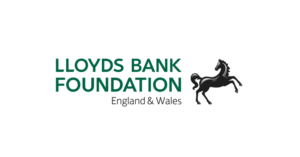 We are over the moon to announce our recent grant from the Lloyds Bank Foundation which has provided security for us and our important work over the next 3 years. As you know, running the Harbour comes at a cost and just to run our drop-in is £300 per day, let alone any of our other activities. So we are extremely grateful for every penny that provides us with confidence that we can keep our doors open. Moreover, we feel even more uplifted and motivated after being told that the Foundation's Board members rated us their highest score!
Harbour on Tour takes The Farm!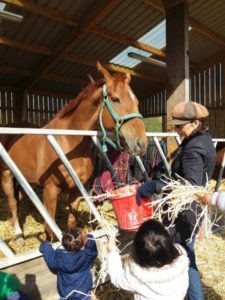 As Spring turns to Summer the Harbour on Tour trips will be on the rise. Recently, visitor families went to see Overtown Farm in Wroughton. A BIG thank you to farmer John White who made us feel so welcome. One of our visitor's wrote in our comment book:'We went on a visit to Wroughton Farm owned by John. He took us on a tour to see his cattle, horses and some racing horses. John then showed us his combined harvest tractors and the rest of the farm. I can honestly say I enjoyed the whole trip and recommend it to anyone to go and see for themselves. I say it was 100% satisfaction. Thanks Harbour'It was lovely to receive such positive feedback from this trip. We can't wait for the summer weather and more exciting trips, including the Uffington White Horse, Avebury and the Devizes locks in upcoming weeks!
Harbour Interns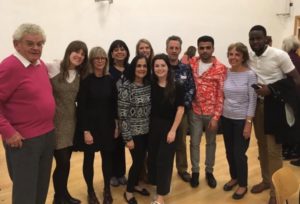 Harbour's first intern was a great success! Holly Grey was with us from January on a 20-week placement from the University of Reading and what a star she was! Admired by staff, volunteers and most importantly the visitors she started up and facilitated the new women's group, supported drop in staff and volunteers, facilitated the new website restructure, helped with funding applications, communications and was a general all around superstar throughout the project. Sadly her 20 weeks have come to an end but we wish her all the best with her final year at university and are pleased to welcome Holly as a drop in volunteer as well as a new Harbour Trustee!
We look forward to welcoming our new intern, Mia O'Sullivan as she joins the Harbour team this July! As a Bath university graduate in Social Policy we are sure she will have lots of skills and ideas to offer the team!
Harbour welcomes new trustees! 
Our Board of Trustees is chaired by David Rowlands and meets every 8 weeks. Trustees look at the finances of the charity, they ensure that our work is effective, efficient and compliant, and that we have a clear strategy and plan of action for the year ahead.  We are really pleased to welcome two new Trustees to our Board – Holly Grey and Faisal Mayed, one of our visitor volunteers has also decided to join us. Both Holly and Faisal bring new experience and perspective to Board. If you would like to hear more about the Board of Trustees, please speak to David or Claire.
Sew Talented!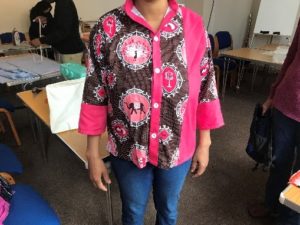 This year our sewing group has been as popular as ever and it's been wonderful to see some of our male visitors joining the group. When seeking asylum and living on £37.75 per week, buying new clothes isn't always affordable. Harbour's sewing group offers a great opportunity for visitors to make their own clothes and get creative using different materials and patterns. We've even had a visitor make their own suit and captured below is a beautifully made women's shirt!
The sewing group has also offered a volunteering opportunity to one of our visitors Sadia, who has been helping other visitors with their designs every week. Her skills in fashion design and natural teaching ability and people skills has made her extremely helpful in leading and supporting the group. Sadia said 'Being able to lead the group has really improved my confidence and I enjoy sharing my skills with the other visitors'
Stepping into success with Steps2Work Harbour!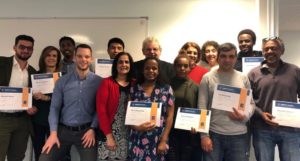 In February around 10 visitors signed up to the latest Steps2work course, which ran once a week for eight weeks. Sessions were based around creating a CV, preparing for an interview, work do's and don'ts and many more skills required when adapting to UK work culture. The last session gave visitors a chance to put into practice what they had learnt through rehearsal interviews with local Swindon businesses. Staff from Inception Business Technology, Nationwide, LRG Training and Consultancy, and the Swindon Marriott Hotel came to the sessions to run the interviews.
It was extremely useful to work alongside the course leader, Dan, and our visitors noted their confidence had increased knowing how to approach work in the UK.
They fed back that rather than nervous and unsure they now feel empowered, confident and prepared! 'My first experience of facing UK work culture, I now feel more confident with real practice!'
We currently have 10 Harbour visitors out in the community, learning new skills, improving their English and making connections for future employment.
Volunteering opportunities have included working with The National Trust, The Olive Tree Cafe, Avebury Community Shop, The Richard Jefferies Museum, GWH, Swindon Borough Council, Live Well Swindon Scheme, The Wiltshire Fire and Rescue Service (Salamander Course) and The Wiltshire Police.
If you would like to support asylum seekers and refugees with volunteering opportunities then please contact steps2work@harbourproject.org.uk
Volunteering and Job Vacancies at The Harbour!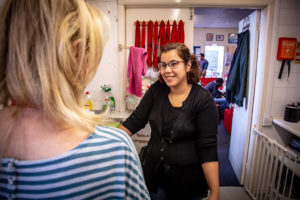 WE'RE HIRING! We are now pleased to accept applications for the role of Business Manager at The Harbour Project. Please follow the link to read the full job description outlining the duties of the role. We are looking for someone with sufficient Admin, IT, and Communications experience and good organisational and people skills to join our team.
This is an exciting opportunity to join a thriving local charity that makes a huge difference to the lives of asylum seekers and refugees in Swindon.
All interested candidates are invited to send a CV and covering letter that outlines your suitability for the role.
The application process is now open and applications are to be submitted to Claire Garrett – CEO by 9am Monday 10th June. Interviews will be held at The Harbour Project WC 17th June.
Volunteers Needed
Volunteering at Harbour Project means meeting new and interesting people from cultures all over the world, making friendships and a real difference to the lives of asylum seekers and refugees in Swindon; increasing self esteem, confidence and English language skills as well as providing them hope for a fair future in the UK.
Minibus drivers – We organise activities and trips for asylum seekers and refugees that require a minibus driver. This could be taking The Harbour football team to a tournament or a group to a local landmark or activity. Previous trips have included Avebury, Whitehorse, Orienteering, Aquariums and Bowling and you are always welcome to join in the activities.
Maths Tutor – We currently have one dedicated Maths Coordinator who is supporting asylum seekers and refugees to improve their Maths skills. Edward covers basic to GCSE level maths and has helped one individual progress to university. Due to an increased interest we are now looking for someone to support him, this would include 121 and small group tutoring once a week.
Homework Club – 
We are looking for support with our weekly homework club on a Wednesday from 4pm – 6pm. This is helping primary school asylum seeking and refugee children with their homework, including reading and finishing work from class.
If you are interested in volunteering then please apply via this link!
Individual FUNdraising
Sarah Wolferstan is taking on a mighty challenge to raise money for our cause. Sarah will be taking part in the TrekFest Challenge on July 6th which involves a tough climb through the Brecon Beacons National Park. The trek will also reach the summit of the Pen Y Fan, which is the highest peak in Southern Britain.
Everyone at Harbour is wishing Sarah the best of luck in her challenges and we are extremely grateful she's chosen to support us with her fundraising. If you're interested in raising money for Harbour feel free to get in touch via info@harbourproject.org.uk If you wish to support Sarah you can do so through her local giving page.